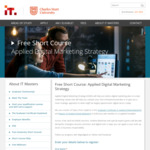 Applied Digital Marketing Strategy (ADMS) will help you build a digital marketing plan on a lean marketing canvas that will help you unleash your next entrepreneurial idea or to give you a more strategic approach to what might be largely opportunistic digital tactics today.
We use a series of topics from subjects in the Graduate Certificate in Applied Digital Marketing and Master of Applied Digital Marketing to build your plan weekly on a supplied template.
Join Andrew Mashman and special guests over 4 weeks to create your digital marketing strategy from the ground up, covering:
* Lean Marketing Canvas, Digital Template & Digital Portfolio
* Digital Tools and Customers
* More Digital Tools, Social Media and Social Listening
* Digital Plan, Actions for My Customers, Analytics and Tracking
Sign up here: https://itmasters.edu.au/free-short-course-applied-digital-m…
Follow our progress with #igetdigital on Twitter and Facebook.