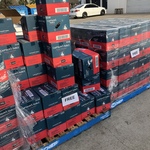 When I was visiting my local grocery, I noticed that they are giving these pallets of crackers for free due to short expiry date. According to them, they shall still be eaten for a week or 2.
The address:
Tamex Import Export
5/42 Kurrajong Ave, Mount Druitt NSW 2770
The gates opens Mon-Fri 9 am – 5:30pm until all are picked.
I declare not responsible for the consumption of these crackers. I am just submitting this to whoever interested.
I wish everyone a good day.