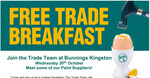 I just received an e-mail advising of an upcoming Bunnings Trade Breakfast to be held at my local Bunnings here in Kingston Tasmania from 7am to 9am 20th October. Check with your own local store in case this is happening at other locations. They are offering a free bacon and egg muffin with a tea, coffee or juice. My husband and I both have PowerPass cards as we have an ABN, (these Bunnings PowerPass cards are great as they allow a 5% discount on most items when making purchases, and you only need to have an ABN to apply for one).
They specify that the breakfast is a "Trade" breakfast, however from past experience when they have had these events, they never ask you to show your PowerPass Card or prove you are a tradie. On numerous times I have come to these with my 12-year-old daughter on the way to dropping her off to school, and they have handed us both the breakfast (and I didn't show or was asked anything).
When: Wednesday 20th October 7:00am-9:00am
Where: Bunnings Kingston Carpark
163 Channel Highway
Kingston 7050
RSVP: kingstonts@bunnings.com.au
This is a copy of the e-mail I got:
"We would like to reach out and contact you as a valued Trade Customer at Bunnings Kingston.
We are running a Trade event this October, based around Paint and how Bunnings Kingston can assist with all your paint needs.
As well as this we would like to inform you of the great new discounts available to you as a PowerPass customer when purchasing paint!
We offer a full range of Dulux paints, a brand well known and trusted within the paint industry,along with a full range of Taubmans paint, another brand with a high reputation for quality.
Taubman's have recently introduced the new Taubman's Professional Trade Range!
On Wednesday the 20th of October we would like to invite you to our Trade BBQ Breakfast
We will have on offer, a FREE hot breakfast
Bacon & Egg Muffins (sauces available)
Coffee or Tea
and Juice
We will have both a representative from Dulux and Taubmans on hand to demonstrate their products and will be able to answer any questions you may have.
As a bonus we will also have an AEG representative on hand showcasing the latest 18v Framing Nailer
Which is set to be a game changer as it has the ability to fire 3x nails a second!
Brendan (myself) and Ali, would love the opportunity to both cook brekky for you and also meet you face to face to see what we can do to further assist you and your business
For your convenience we have added a copy of the invite, to keep on the fridge!
Hope to see you there!