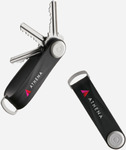 Credit to millzy
Could not see that this was targeted and no sign in/up required. I ordered last week and was dispatched today. Appears to be marketing merch?
It does have the Athena Loans logo but #free is free and this is ozbargain.
Enjoy!
---
Mod note: The Athena representative has advised that this offer is for Athena customers only and eligible customers with a loan will be emailed a unique code to redeem this item.
They have not provided any information on whether orders made using the generic coupon (Ultimate$) will be fulfilled.
---
Update: The Athena store rep has given us a statement, see below for a verbatim copy of their comment:
Hey Ozbargainers,

Whilst we love that so many people want to be repping our Athena branded merch, our freebies are exclusively for our existing customers. We'll only be processing orders that are validated with unique Ultimate$ codes. To score the merch, you'll have to get an Athena home loan 😉