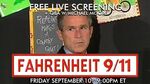 One of the best 9/11 documentaries IMHO (also rated 7.5 on IMDb). I watched it live earlier this morning via his youtube channel and the link will apparently be available for now…This is also the link for his Twitter announcement:
https://mobile.twitter.com/MMFlint/status/143640554513354346…
Also available via YouTube:
https://youtu.be/cebnlqi9RGQ
Copied from the link:
WATCH: Fahrenheit 9/11 + Live Q&ATonight at 9pm ET/6pm PT
TONIGHT'S THE NIGHT! 
And you are in the right place!
Join me on this, the eve of the 20th anniversary of 9/11, for a special free screening of my film, Fahrenheit 9/11 at 9pm ET/6pm PT tonight (Friday, September 10th).
The film and the live Q&A (with special guests) will be airing in the video player above. All you need to do at 9pm ET is hit play! (If the stream stops for whatever reason, just refresh this page).
If you'd like to watch on your TV via YouTube, open the YouTube app and type "Michael Moore" into the search function. Or go to my YouTube channel here.