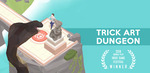 Free now
■ What is『Trick Art Dungeon』?
Trick Art Dungeon is the journey of a child who is looking for his missing parents. Travel between imagination and reality to guide him back to his parents.
Every moment of following the traces of his parents will be full of surprises and amazing experiences of trick arts and game features.
■ Unforgettable Story
Mysterious experiences as you follow the traces of the missing parents
See the emotional changes the child experiences.
■ Emotional graphics and sound
Experience the unique atmosphere of Trick Art through various themes of the low polygon graphics and classic sounds.
■ Simple controls but thrilling actions
Anyone can enjoy this game with simple touch and swipes.