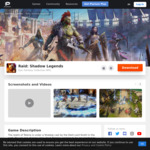 Hey Guys,
This one probably isn't for everyone, as it is a RAID shadow legends offer, which, I think most people know it can be a huge drain of cash if you get sucked into paying for it. I haven't paid for anything on my account, but it is a grind to progress through the game content.
That said I recently got my first Legendary character after 160 days of playing, so to be able to get a legendary after logging in for 7 days plus gear, plus a bunch of other stuff with the NINJA code is amazing if you like this game. It can be pretty complicated and time consuming, but I like the thinking/frustration aspect to it.
It is a collaboration with the well-known streamer Ninja and as a result you get him as a character, it is perhaps the worst player art in the game but hey it's "free" excluding your time.
Basically, you download the game, do the tutorial, then when you login for the 7th day between the 16/07/21 – 15/10/21 you will be rewarded with the character, plus other daily login rewards (and promo deals, lots of micro transaction promo deals). Additionally, you can use the code NINJA in the in-game promo codes area, you will get extra bonuses to help level your characters.
It can be addictive, Plarium is owned by a digital casino company, so their ability to withhold what you need most and pop up a wonderful deal is on point. When you hear about some people spending thousands of dollars on the game, this one is definitely play to win/lose, so be careful with that. I've stayed free to play and still get enjoyment from it.
There is also a newly created referral code section that has been created for RAID, which you can use as a link to download the game to get more free stuff.
Happy Raiding