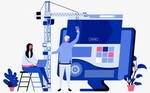 Some more freebie courses to learn a bit of Python and Java.
Modern PHP Web Development w/ MySQL, GitHub & Heroku Code: PHP_JUL_FREE_2
Functional Programming + Lambdas, Method References, Streams Code: FP_JUL_FREE_2
Java from Zero to First Job – Practical Guide, 600+ examples Code: JAVA_JUL_FREE_2
Enjoy!
Mod: Removed duplicates based on title match.