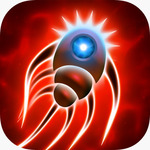 Another little, very colourful freebie for your iOS devices.
From the website:
Weave your way through menacing swarms, collect Power Pods and turn the tables on your foes! The space bugs are back and tougher than ever – do you have what it takes to defeat them?
Silverfish DX delivers pure arcade action designed & refined for touchscreens.
Enjoy!