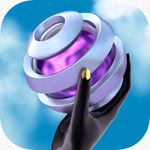 A nice little app to help you learn and practice your music playing skills.
Circle o Fifths: Music Theory: https://apps.apple.com/au/app/id1499417636
From the website: Marbloid:
AppStore Game of the Day◂
▸IGF 2019 Honorable mention◂
▸DCP 2019 nominated for best mobile game◂
Trip through the Vaporwave and do the Exit – MΔRBLΘID is a 3D marble runner like no other!
Play the restless mind of an entrepreneur, captured in a magic marble, on its journey to the ultimate goal: The Exit!
Features:
• Casual Core – Enjoy this chilled as well as thrilling marble gaming experience. Explore and master the procedural levels filled with downhills, rhythmic jump sections, powerful speed pads, chilling rails, portals and more to discover.
• Tilt & Tap – This is true mobile gaming: Tilt to steer and tap to jump. The input design is simple, intuitive and precise. Play single handed in portrait mode.
• VAPORWAVE AESTHETICS – Travel through six different worlds inspired by Greek busts, 90s tech companies, holograms and dolphins. Listen to the original interactive soundtrack composed by Donovan Hikaru & Eyeliner aka. Disasteradio. Headphones recommended!
• To the moon – Feel the thrill of an entrepreneur starting up. Accumulate one billion points to beat the game. Play save or go all in to grow your multiplier for an even bigger yield – Do you take the risk?
• Invest and grow – Collect emojis to upgrade your power-ups and unlock unique marbles with custom perks. 30 ranks with exciting missions will keep you busy for weeks.
• Play premium – Marbloid is a premium game with no ads, in app purchases or annoying push messages. Buy once and play forever. Marbloid is a Universal App: Play on your iPhone and iPad and sync your progress via iCloud.
From the website: Circle o Fifths:
Grab your instrument, and hear and learn the circle of fifths! This handy music practice and theory tool can be a game changer to help you learn and even write your own songs.
Features:
-3 full rings with support for all the major and minor keys
-36 interactive notes/chords
-36 real guitar audio recordings of every chord on the circle
-36 guitar chord charts, just tap and hold to learn
-Color coding to help you easily reference and learn the note/chord you are playing
-NEW! Chords tab to see all the chords in each key, toggle between major/minor to see the relationships
The outside ring of the circle has all the major keys. Tap on any of them to hear and change the key. The color coding will tell you which number the chord or note is. The middle ring has all the minor keys, and the inner ring has the diminished chords/notes. You can tap on any chord/note to hear how it sounds, and tap and hold to see the guitar chord and how to play it!
If you are playing a song in a major key, use the color coding up top to understand the chord/note relationships.
If you are playing a song in a minor key, use the color coding on the bottom to understand the chord/note relationships.
Use the chords tab to easily play songs in any key, transpose on the fly, see major/minor key relationships, and more.
Enjoy!