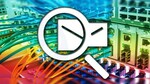 Just came across this highly rated course for the tech and network interested among you. The course is highly rated.
Free for another day. Fits in perfectly with the subnetting course which is also currently free: https://www.ozbargain.com.au/node/635867
Should the link which includes the code not work, use code "JULY21FREE" to make the course free.
From the description:
Requirements
Description
This course's goal is to teach you some of the most important computer networking concepts, but also provide practical, real-life scenario labs & guide you through configuring those successfully. Some of the labs come from CCNA, but they're mostly original topologies I created for my Computer Networking students. They were very successful so I decided to post them on Udemy as well. Hope you will find them useful and feel free to send ideas on additional labs I might add!
Who this course is for:
Enjoy!