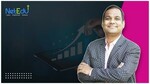 Some more free courses from Udemy, hopefully they are useful to you.
NLP – Beginner Level – Personal Growth Mastery: Code: JUNEFREE
Note that this course is only free until 11pm tonight!
SAS Certified Associate SAS Programming Fundamentals: Code: 24C113716455DBD78010
2021 Professional Job Interview Questions and Answers: Code: CD243A1BE03BCFEE6291
Enjoy!