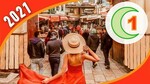 This looks like another interesting and useful course for everyone who is a bit interested in languages.
From the website:
This Complete and unique Arabic course will help you hit 8 birds with 1 stone. After finishing this course you will be able to:
1- Speak Arabic Confidently, easily and quickly with Arabic speakers from around the world about 15+ topics
2- Master reading Arabic correctly just like native Arabic speakers
3- Master Writing Arabic correctly
4- Make sentences on your own in Arabic
5- Eliminate or reduce your bad Arabic accent so Arabic speakers can understand you easily
6- Know the road map that helps you speak Arabic fast and correctly
7- Learn Arabic Grammar and Arabic conjugation
8- Understand different Arabic accents
Enjoy!