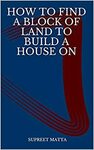 Hi ozb fam..
Here's a free ebook for you – it's free for 2 days.
Will be helpful if you are looking to buy a land or a house to demolish to build a new house on.
Us link: https://www.amazon.com/find-block-land-build-house-ebook/dp/…
A land which may be perfect for one household to build their house on, may not be right for another household – keeping that in mind it's not possible for one person to tell another that this is exactly what you need in a block of land. That's why this short and very informative book is aimed to provide a good list of considerations one need to keep in mind when looking to buy a block of land to make an informative decision.
If you are thinking about finding a block of land to build your dream house on, this is the book you want to have a read as it will tell you what to look out for.
This should have information even for a person who have already built a house as there is always some information that you do not come across in the first time.