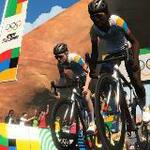 [New subscribers only]
The International Olympic Committee (IOC), collaborating with the Union Cycliste Internationale (UCI), are coming together to bring you the Olympic Virtual Series, hosted on Zwift.
This series will serve up a full month of action between June 1–27. Olympian-hosted podcasts and Olympian-inspired workouts with surprise guests, all leading to 24-hour group rides as well as a broadcasted chase-style event with Olympians on June 18th! This unique Chase Race will see Olympians pitted against celebrities and a few lucky community members seeded. All riders will be gridded and set off over various start intervals.
Group Rides & Workouts
From June 1 to June 27, dive into a month of fun with both social group rides and heart-pounding group workouts, inspired by eight top-notch Olympians and their racing specialties.
The group ride with Anna Meares will be scheduled between June 20 – June 22: with six Olympic medals, Anna Meares, OAM, is the most decorated woman track cyclist of all time. Her credentials also extend to being the 500m track time trial World Champion on four different occasions.
More info about the event:
https://www.uci.org/cycling-esports/olympic-virtual-series
More info on equipment that you will need (an indoor smart trainer, a PC/laptop or AppleTV or similar, Bluetooth or ANT+ connectivity, and preferably also a heart rate monitor. Water bottle, towel and fan are optional but highly recommended…):
https://www.uci.org/road/news/2020/how-to-get-the-best-set-u…
Source (where I found out about the event): https://www.cyclingnews.com/amp/news/uci-and-zwift-reveal-sc…