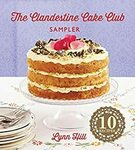 Two more freebies to make some delicious food at home.
The Cake Club Cookbook seems to be a sampler with 10 recipes so it won't take you too long to try out those recipes (maybe 10 weeks, 1 recipe per weekend). While not very big the recipes and the cakes appear to be excellent though judging from the large number of great reviews on Amazon!
Note: These books are free at time of posting: read the page and do NOT use 1 click to buy in case the free offers expire and you purchase the books by accident.
Joyful Juicing: https://www.amazon.com.au/dp/B00HSTVBVI
US Links:
Joyful Juicing: https://www.amazon.com/dp/B00HSTVBVI
The Clandestine Cake Club Cookbook: https://www.amazon.com/dp/B00BFRLE52
From the website: The Clandestine Cake Club Cookbook:
Across the UK and beyond, thousands of home bakers have been meeting covertly and sharing some of the most loved and inventive baked delights you'll ever eat. With 10 recipes from the book, you can have a taste of just how fantastic these bakers really are. Enjoy!
From the website: Joyful Juicing:
Juicing is the best method to give your body a quick and powerful burst of vibrant health. Overflowing with the essentials of juice nutrition, Joyful Juicing shows you how to cleanse your life of the toxins that are weighing you down. Plus, try over 80 delicious and refreshing juice recipes, such as
-Orange Dream
-Inner Balance
-Bright and Alert
-Pure Bliss
-Easy Breeze
Author Carey Kingsbury transformed low energy and depression into thriving vitality and happiness through a journey of juicing—and now she's passing that expertise on to you!
Whether you want to make an occasional healthy morning drink, learn to love your fruits and veggies, or try a cleansing challenge, this complete guide will take you from wishful thinking to joyful juicing in no time!
Enjoy!