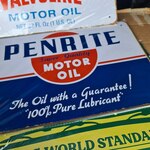 First, PLEASE do not call the stores harassing them about free tin signs. It's not an official deal or anything (in fact it's kind of a secret). It's at each stores discretion. If you want to ask for a tin sign, at least go in there and buy something and support the store. Not every store still has them. I didn't really bother to survey how many were floating around seeing as I already have more than I could ever possibly know what to do with. Remember that the stores (and especially the managers) are EXTREMELY busy and don't have time for calls about free tin signs. If you get told no, MOVE ON.
Please consider this more as a "nice to have" and a "bonus". Do not call the stores sea gulling. If you do, it won't be long before they get tired of me posting stuff like this on OzBargain and if the big bosses request me to stop posting here regarding SCA, then I will have to stop. Plain and simple.
Just when you do your weekend shop there kindly ask if they have any more of those Valvoline and other tin signs that they were giving away with the oil purchases a while back.
You can get all different types. I didn't bother to take pictures of all the different types. There were many many more. I would estimate that there are over 10 different types (although I haven't even looked at them yet to be honest). I do remember the Ryco Filters one cause I thought "that's cool". They were cool enough that my family already sea gulled through my boxes of them and taxed a couple dozen LOL.
Enjoy!