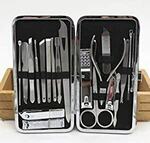 Fomatrade 20 pcs manicure kit – fingernail kit-toenail clippers kit – Grooming Kit -travel kit – grooming kit – nail kit Unique Design This fingernail kit features a newest unique and fashionable appearance that with innovative physical design, Convenient at office/ home/ travel/ dorm/ study/ library/ games room and more. Portable
The toenail clippers kit with portable mini size: 6 inches, small but powerful enough, you can take it anywhere you want. Length: 6 inches, Width: 3.8 inches, Height: 0.5 inches. Fashionable and Stylish
This grooming kit fit for any stylish girls/ boys/ women/ men! Material: The black matte finish stainless steel. Weight: 0.36Kg.
3 x Nail Clippers: Used for trimming fingernails, toenails, and hangnails
3 x Peeling Knives: Used for peeling off the dead and rough skin
1 x Cuticle Trimmers: Used for cutting off the cuticle
1 x Cuticle Pusher and Nail Cleaner: Curved flat end perfectly pushes the skin back flawlessly and sharp end cuts or scrape away dead cuticle
1 x Toe-Nail Nipper: Used for safely clipping off ingrown nails
1 x Toe-Nail Nipper: Used for safely clipping off ingrown nails
1 x Nail File: Used for refining and strengthening sharp and rough nail tips
1 x Dead Skin Fork: Used for trimming cuticles with ease in no time
1 x Eyebrow Twezer: Used for shaping up brows flawlessly by removing all unwanted eyebrow
1 x Eyebrow/Moustache Scissor: Used for cutting and crafting with ease and comfort
1 x Acne Needle with Loop Blackhead: Used for removing blackheads, acne, and various blemishes
1 x Ear Pick: Used for cleaning ear canal or earwax
Packing details: 1x manicure kit as picture show.