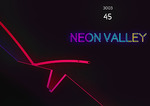 No ads or IAPs for both games.
Neon Valley expires on 1 Apr at 11am AEDT. Note that:
It will ask you for access to your files but you can "decline" and still play.
Its instructions are wrong. After the ball makes contact with any surface, you can tap and hold any part of the screen to make rotating triangle appear and you let go to bounce the ball in that direction.
Turn on the music for better experience!
Upping Floors – a simple block stacking game.
Enjoy!