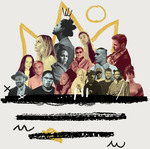 Get in quick – found an email in my spam folder for free tickets at Sydney Opera House forecourt. It was announced 12 March so I can't vouch how many tickets are left but I just scored some. When I checked there were tickets left for two of the three events (Barrabuwari feat. Ziggy Ramo and Heartstrings Sydney Symphony). Good luck!
Details (BTW – no booking free was applied):
Barrabuwari
SAT 10 APR, 7.45pm
Barrabuwari presents Ziggy Ramo
On the Forecourt
Plus
Heartstrings Sydney Symphony
Great music has the power to stir emotions and make us feel more
In this program the Sydney Symphony performs music for strings by four great composers that are united in their ability to make us feel extraordinary emotions.
In Grieg's Holberg Suite and Tchaikovsky's Serenade for Strings both composers take inspiration from earlier times, putting their own twist on the music that came before. Grieg's suite of dances has an infectious energy that is sure to delight, while Tchaikovsky takes inspiration from his favourite composer, Mozart, and creates a gorgeous serenade that bursts with emotion.
Beethoven's Cavatina is short but oh so sweet. It's so moving it was chosen to appear on the Voyager Golden Record that launched into space in 1977, a testament to its universal appeal. At the same time the Voyager mission was preparing to launch Arvo Pärt was composing Fratres – meditative and hypnotic music that is breathtakingly moving.
Program:
GRIEG Holberg Suite
BEETHOVEN String Quartet No.13: Cavatina (string orchestra version)
PÄRT Fratres
TCHAIKOVSKY Serenade for Strings
Benjamin Northey conductor
Harry Bennetts violin & concertmaster
Presented by Sydney Opera House.