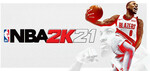 Another free to play weekend for two pretty recent games – it will give you a chance to try before you.
The bad reviews for NBA are for the microtransactions – if you just want to play some great offline, single player basketball, it is fine.
Dirt 5: https://store.steampowered.com/app/1038250/DIRT_5/
Enjoy!