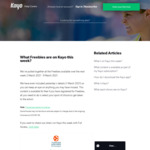 Access some free sports content on Kayo 👍🏻 List in link for this weeks offerings
Account registration required. New registrants receive 14-day free trial too.
Follow the steps below to register for Kayo Freebies via your web browser:
Via a compatible browser, visit https://kayosports.com.au/browse
Select the Kayo Freebies you wish to watch
Note: You can identify Freebies content by the green freeeebie tag in the corner of the tile.
Select 'Register for Kayo Freebies'
Follow the prompts to enter your personal details and complete your registration
Now it's time to create your profile and select your favourite sports so you can enjoy your Freebies!
| Basketball | EuroLeague |
| --- | --- |
| Milan v Fenerbache | Thu, 04 Mar, 6:30 am |
| Bayern Munich v Panathinaikos | Fri, 05 Mar, 6:15 am |
| Cricket | WNCL |
| --- | --- |
| VIC v QLD | Fri, 05 Mar, 9:55 am |
| TAS v QLD | Sun, 07 Mar, 9:55 am |
| Cricket | WNCL |
| --- | --- |
| VIC v QLD | Fri, 05 Mar, 9:55 am |
| TAS v QLD | Sun, 07 Mar, 9:55 am |
| Cricket | WNCL |
| --- | --- |
| VIC v QLD | Fri, 05 Mar, 9:55 am |
| TAS v QLD | Sun, 07 Mar, 9:55 am |
| Football | Time |
| --- | --- |
| Perth Glory v Central Coast Mariners | Tue, 02 Mar, 9:15 pm |
| Leverkusen v Freiburg | Mon, 01 Mar, 3:55 am |
| Chelsea v Man Utd | Mon, 01 Mar, 7:30 pm |
| Uni Catolica v Liverpool FC | Wed, 03 Mar, 11:00 am |
| Caracas v Cesar Vallejo | Thu, 04 Mar, 9:10 am |
| Guarani v Pari | Thu, 04 Mar, 11:10 am |
| Watford v Nottm Forest | Sat, 06 Mar, 11:25 pm |
| Real Madrid v Sociedad | Tue, 02 Mar, 6:55 am |
| Osasuna v Barcelona | Sun, 07 Mar, 6:30 am |
| Marseille v Lyon | Mon, 01 Mar, 6:55 am |
| Sheff Utd v Liverpool | Mon, 01 Mar, 6:30 pm |
| Roma v Genoa | Sun, 07 Mar, 10:20 pm |
| Adelaide United v Sydney FC | Sat, 06 Mar, 7:00 pm |
| Surfing | Date / Time |
| --- | --- |
| Vissla Central Coast Pro Day 1 | Thu, 04 Mar, 7:00 am |
| Vissla Central Coast Pro Day 2 | Fri, 05 Mar, 7:00 am |
| Vissla Central Coast Pro Day 3 | Sat, 06 Mar, 8:00 am |
| Tennis | WTA |
| --- | --- |
| Doha Final | Sun, 07 Mar, 2:00 am |