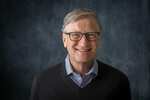 Enter the coupon code solutions into the password field to unlock the free unlisted video on YouTube, or just click the direct link!
Seattle Arts and Lectures – Bill Gates In Conversation interviewed by Anderson Cooper
Seems to be a generic code so anyone can use it. The more awareness the more chance we have of solving what's in front of us.
It's an insightful hour of discussion regarding the climate crisis, where we're at and how we can make a difference.
This event is part of the book tour for Bill Gates new book — How to avoid a climate disaster.