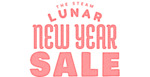 The Giveaway is open to every Steam user. No purchase is necessary to participate.
There are four animated stickers for use in Steam Chat that are available for Steam users to obtain for free through the Giveaway. The Stickers are not substitutable, tradeable or marketable.
Steam users may participate in the Giveaway by visiting the Steam Points shop page and clicking a button to claim a random Sticker once within each 24-hour period. If a Steam user visits the Steam Points shop and obtains a Sticker during each of the four 24-hour periods, that Steam User will have obtained all of the Stickers available through the Giveaway.
The selection of the random Sticker given to each Steam user within each 24-hour period will be performed by a random computer process.