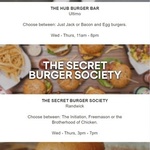 Just got this email from EatClub, sorry for the janky cropping, my screenshot software isn't great for scrolling screenshots. If you prefer to read the email notification, here's the email in text form:
WE'RE SHOUTING
YOU FREE BURGERS.
Are burgers your fave food group? Same.
That's why we're shouting all EatClub customers a deliciously free burger* from a whole heap of top burger spots around Sydney on Wednesday and Thursday (10 – 11 Feb).
Want to get involved? It's pretty simple.
Open the EatClub app.
Redeem a 'Free Burger' deal at any venue below.
Head in-store and enjoy!
Check out the drool-worthy options below!
Stage 27
Potts Point
Enjoy the Old Timer burger for free!
Wed – Thurs, 5pm – 9pm
Gami Chicken & Beer
World Square
Enjoy the Deli Chicken Burger for free!
Wed – Thurs, 2pm – 8:30pm
The Hub Burger Bar
Ultimo
Choose between: Just Jack or Bacon and Egg burgers.
Wed – Thurs, 11am – 8pm
The Secret Burger Society
Randwick
Choose between: The Initiation, Freemason or the Brotherhood of Chicken.
Wed – Thurs, 3pm – 7pm
Chicky Char Char
Alexandria
Choose between: Mad Bull, Char or Veggie burgers.
Wed, 11am – 8pm
Thurs, 11am – 10:30pm
Kebabs on Cleveland
Surry Hills
Choose between: Deluxe Beef or Crispy Chicken burgers.
Wed – Thurs, 12pm – 9:30pm