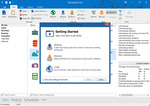 Backup4all Standard allows you to easily backup to multiple destinations,
Local – back-up to the local HDD or to DVD, CD, Blu-ray/HD-DVD.
External – back-up to external HDDs (USB/Firewire enclosures) or removable media (i.e. USB drives).
Network – back-up to network destinations (including mapped network drives)
---
My personal favorite backup program. I use it in mirror mode, with an update deleting, adding, or changing files individually. And all files are stored as they are on the local disk, so if you have a file you accidentally deleted, it's easy to find it on your backup.
There is also normal backup modes, with or without compression. So it ticks the boxes for most home users.
Anyway, it's free for the next 23h or so. It's rare that SharewareOnSale has good programs, but this is one of them, so worthy of a post.
Note, it's not that different from their free version named Fbackup, but their are some minor additional features, which some may like. It is also version 7, which is an older version to their updated 8 version. But from what I could see, there really isn't anything in 8 standard, that isn't in 7 standard.
Cheers.