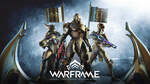 Another little freebie for those of you that play Warframe.
This pack will give you:
DRAKGOON FLAK CANNON SKIN
Go wide for an unstoppable killing spree with this unreal-looking skin for the Drakgoon.

OGRIS ROCKET LAUNCHER SKIN
Dominate your look with this god-like skin for the Ogris.

STAHLTA SHOCK RIFLE SKIN
Claim first blood with this killer skin for the Stahlta – a common sight in tournaments of old.

ESSENTIAL CRITICAL CHANCE MOD BUNDLE
This set of Weapon Mods gives you instant access to upgrading your Weapons' Critical Chance. Everything in this pack can also be earned from mission rewards, enemy drops, and more!

7-DAY AFFINITY BOOSTER
Doubles the rate at which you earn affinity. Upgrade your weapons and Warframes faster.
Enjoy!