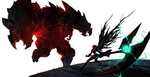 Two games on sale with the first having an average rating of 4.5 stars from over 200,000 reviews and the second with an average rating 4.1 stars from over 18,000 reviews. Free for a limited time.
Shadow of Death: Dark Knight – Stickman Fighting
Plunge into the darkness and experience the greatest pocket sized fantasy RPG of the ages. Whip out that shadow blade and select a customizable dark knight to go on a side scroller adventure anywhere at anytime. Freely experiment with multiple gameplay styles, wicked rare armor sets, and robust skill trees to create the best shadow knight possible. An offline fighting game with the soul of a console RPG is not what this generation of gamers deserves, but needs! The shadow of war is rising, will you accept the challenge?
Space Shooter: Alien vs Galaxy Attack
Space Shooter: Galaxy Attack is the best Galaxy Shooter game. If you are a big fan of arcade shooting game like galaxia, galaxian and galactica with the new modern combat, and want to bring the freedom in the galaxy games, so Space shooter: Galaxy attack is perfect game for you. With classic free space games genre, old game with a new context, Space shooter: Galaxy attack puts you on fire with infinity space shooting. You will be faced lots of evil enemies and deal with many striker bosses in galaxy wars. Are you sure you will survival in the war of alien shooter?