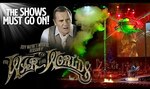 The War of The Worlds — Jeff Wayne's full stage musical adaptation of H.G. Wells' alien invasion novel was recorded live at London's O2 arena in 2012. The reimagined story, which was first released in 1978 as a concept album by Jeff Wayne, is narrated by Liam Neeson and includes performances by Jason Donovan, Marti Pellow and Ricky Wilson. Wayne's album is now one of the best-selling of all time.
In Loving Memory of Michael Falzon
Michael Falzon performed as The Artilleryman when Jeff Wayne's 'The War of The Worlds' toured Australia & New Zealand in 2007, and in 2010-2012 as The NASA Controller across the UK & Europe. He passed away on 23 June 2020 after a year-long battle with a rare form of germ cell cancer.
Michaels' family and wife have set up a donation page for the Chris O'Brien Lifehouse, where Michael was lovingly cared for during his treatment. It is the largest cancer clinical trial centre in NSW. Research and trials are carried out by the same clinicians who treat patients, shortening the path between discovery and new treatments. The money raised will fund research, trials and resources for germ cell cancer and other lesser-known cancers.
Please donate to the Chris O'Brien Lifehouse if you can.
Credit also to dealbot who sent me this off-site announcement.