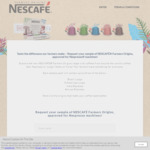 From their website:
Free sample of NESCAFÉ Farmers Origins, approved for Nespresso machines.
Each sample pack will contain up to three of the below:
Brazil Lungo
3 Americas Lungo
India Espresso
Africas Ristretto
Max 1 claim per household.
Ends 28th October 2020 (or until stock is exhausted, whichever occurs first).